How do I book an apartment? (Germany)
You can select and book your apartment directly on our website using our booking tool.
Once you have chosen a apartment, click on 'book now'.
register and fill in your details
a new contract is then generated
Sign the contract and fill in the SEPA form.  
The flat is now reserved for you for five days. Pay the service fee during this period to complete the booking. Otherwise, the booking will be cancelled after five days.
When we have received the payment, the contract will be countersigned and you will receive a confirmation email with the countersigned contract.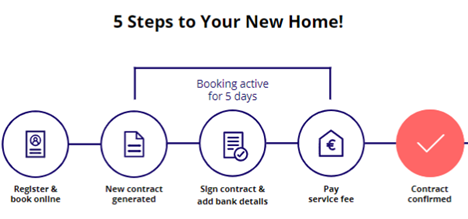 You can find all the steps explained in our blog.
If you do not see an available apartment, we are currently fully booked.
However, there is still a chance that an apartment will become available. So feel free to check our homepage from time to time.
You have received an error message; have questions about the booking process or other problems with the booking? Please contact our sales team.
What do I have to do after I receive my rental contract?
The first month's rent as well as the deposit must be transferred to the account stated in the tenancy agreement at least 14 days before moving in. (Please note that a bank fee may apply for international transfers).
We also ask you to arrange a move-in date in advance or to book via our calendar. You can find more information here.
Which documents must I show?
We need your:
Proof of matriculation or proof of education
(Young professionals: Proof of work)
Liability Insurance
ID card/VISA
SEPA direct debit mandate
---
---